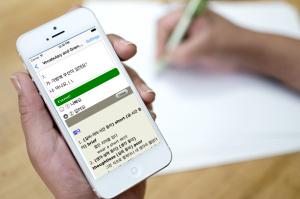 TOPIK ONE is the best way to study for the Test of Proficiency in Korean in your Android/iPhone/Kindle devices! It simulates the real test and contains previous TOPIK exams.
You can easily access the Korean-English dictionary by clicking on the word.
The interface was optimized to be visualized on small screens like mobile phones. Perfect to improve your Korean while taking the subway or waiting your turn on the barber shop.
The application is available for Android, iOS and Kindle Fire devices, in their respective app stores.
It comes in 4 different flavors:
Free: with one test of each level (Beginner, Intermediate and Advanced).
Beginner: Tests since 17회.
Intermediate: Tests since 17회.
Advanced: Tests since 17회.
Main features:
Embedded Korean-English dictionary: a single in the word and it will brings the definition in English.
Answers checking: Immediate feedback if you answered correctly or not.
Computation of the points: automatically calculates how many points you have done, so you can check your performance.
Link to audio files: (deprecated) You can easily download the audio files for the listening tests. This feature is not available from 31회.
Vocabulary section: A list of the top 20 most searched words in each test.
Limitations:
Embedded dictionary, download of audio file and Vocabulary section requires network connection.
Audio files are usually huge. Try to download only if you have WIFI connection.